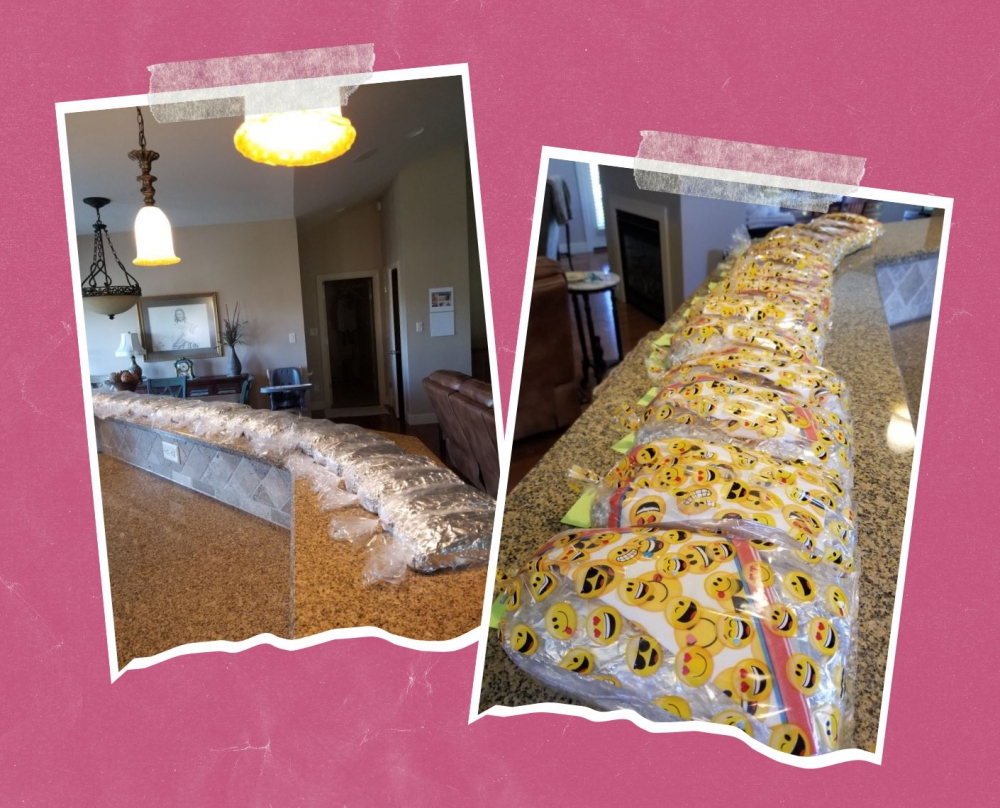 My friend went bananas. During the last lock-down, she posted on Facebook: "If you're looking for ripe bananas anywhere in town, don't bother. I bought them all."
And she did! She was in the middle of a banana nut bread baking marathon. Who got a loaf? Anyone who posted their request on Facebook. She kept going and lost count after the 75th loaf. Was she nutty? Yup…and so was her banana bread.
Some she mailed, others she hand-delivered. Comments of gratitude poured in. She asked for no payment, no exchange of anything. Everyone got a loaf just for asking.
God uses the same method.
He has the bread of life prepared in the oven of His love. It's ready to ease our hunger. Ready to dismantle stress and bring on peace.
But as crazy busy as we are, we don't stop to ask. We have all kinds of reasons: the Christmas season is way too hectic to pause and receive. We're way to committed. Way too focused on pleasing others, and driven to bake those cookies and hang the ornaments. Bedtime can't come soon enough.
How sad, caught up in the frantic and frills, we miss the beautiful, rich, and wholesome bread of life, which by the way, God hand-delivers to the doorstep of our soul.
But that gift of love remains unopened, untouched. Could that be why our peace turns to pieces of stress instead? It does while we're in the midst of the rush, in the middle of the worry, and in the depth of our busy days.
But if you halt that busyness and pause to inhale the delicious aroma, this allows your soul to delight in the truth spoken by the apostle Paul.
God's Message for You
Although he wrote to the Ephesians, the message may be for you today, for this very moment. Instead of dwelling in how life used to be, how sad things seem, how wide and long and high and deep your troubles are, Paul says: "I pray that you, being rooted and established in love, may have power, together with all the saints, to grasp how wide and long and high and deep is the love of Christ…" (Ephesians 3:17-18).
It's the depth of that love that satisfies the deepest hunger. Love that soothes past wounds. Love that transforms stress to peace. And, it's that love that "is able to do immeasurably more than all we ask or imagine, according to his power that is at work with in us" (Ephesians 3:19).
Beyond what you can ask or imagine, in spite of what anxiety grips you, gloom that surrounds you, or the loneliness that invades you. He goes beyond your expectations: He not only heals, He restores. He not only provides, He gives you riches. He not only satisfies, He brings a lifetime of delight.
Pure love was born on Christmas day. That's worth celebrating. How about slicing some of that delicious bread, and delighting our soul in the bread of life prepared with God's love. Christmas comes alive—nourished by His love, strengthened by His Word, and empowered by His promises.
Let's Pray
Father, thank You for showing me that fulfillment, satisfaction, peace and meaning aren't found in the frills of the Christmas season. Thank you for granting me the wisdom to pause and realize my hunger was for you—the bread of life. I praise you for allowing me to savor Your love through Christ—love that permanently delights my soul.
What will satisfy your hunger today?
It's my joy to have you as part of my inspirational family. Please feel free to share today's post with others.
Janet
Let's Stay in Touch
You and I are only a click away. Hop on over to this CONTACT FORM. Once there you can leave your prayer request, make a comment, ask a question, or invite me to speak to your group.
I also invite you to visit my brand new WEBSITE. You'll find more inspirational blogs along with my story, books, and videos. You'll also learn the passion and mission of JC Empowerment ministries.