She cleared her throat. "Are Christians lying? Or are some of them faking or covering up the real truth? Even though we're believers, how can we not feel fear, have moments of doubt and feel like screaming, God, this is enough!"
No one in the group answered. Could it be because we agreed with her?
In silence, we hid those same emotions deep inside. We managed to cover them under the I-have-enough-faith notion.
But who could blame us?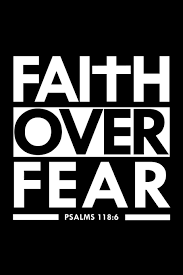 We're human and although we're believers in Christ, we're afraid to open up and admit that yes, sometimes we wake up and wonder what will be next? Other times we can't even receive God's Word well enough to face all the ugliness that paints this dark world.
But what spreads more subtly than the pandemic of anxiety is the number of Christians who face that battle between sinking in fear or standing in faith. Peter experienced the same dilemma when the storm came. He should have believed Jesus would protect him and kick fear to the curb. But instead, he blurted words of fear and worry, contagious enough to spread to the other disciples. Peter thought He was on his own, defenseless and unequipped to fight the battle of fear.
We're all in that same boat, buffeted by that same storm of uncertainty. And while holding on tight hoping we won't be crushed, we must choose the group to which we belong. The one that will sink in the deep waters of anxiety, swallowed by fear. Or the group who looks to God for His wisdom and has the audacity to look beyond the circumstances and dare to invite faith to come in. to ponder on His victory. To declare He already took care of the danger. And to step under His banner of ultimate glory.
That's why we choose to stand on His side as He fights our battles. And wearing the garment of gratitude, we do our part by joining Him with the weapons of faith, commitment, truth and confidence.
Let's Pray
Father, no matter how bad things get, I vow to remain on the side that trusts in You. When inflation rises, my faith will increase. When bad news come, I shall run to You for protection. I will rejoice because when I'm under the side of Your grace, no evil can harm me, my life or my family. In Jesus name.
Which side are you on these days?
Janet
---
I invite you to dance with me—celebrating one of my books, "Contagious Courage: A 30-Day Journey to Overcoming Stress and Anxiety." Get your copy HERE and tell your friends, too.
Did you know I wrote a book filled with words of encouragement, uplifting thoughts and illustrations of real-life triumph to empower you? Its title, Trials of Today, Treasures for Tomorrow: Overcoming Adversities in Life. You can get it HERE.
CLICK HERE for a one-minute inspirational video.
Looking for a speaker for your upcoming event? A great speaker makes the difference between a so-so event and one that shines with impact. I invite you to view one of my two-minute videos HERE.
Please share: Feel free to share Janet's posts with your friends.
Let's connect:
Comments: I welcome your thoughts; please consider leaving a comment. Just scroll down to the bottom of this blog post and look for the word REPLY. You can post your comment there. Please note: Everyone leaving a comment must first log in using the link provided. If you haven't yet signed up, this link will also walk you through the steps.
An Opportunity for You
If God spoke to you through these writings, would you prayerfully consider joining us in spreading the goodness of Christ Jesus to those who are lost and hurting?
With immense gratitude, JC Empowerment Ministries welcomes your tax-deductible donations.
One click will take you to the place for your gift. You can GIVE HERE.
Thank you for helping the ministry reach souls!