Inspiration and Motivation are the New Paths to Profitability
Janet Perez Eckles has been called "a powerhouse of motivation"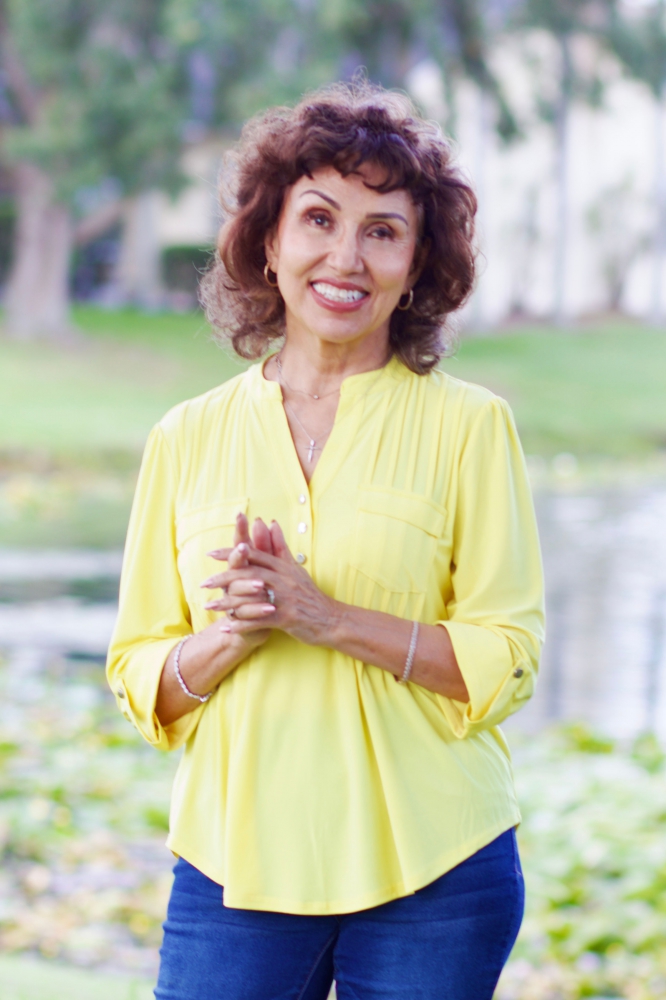 How do you motivate your organization when most are busy struggling to keep their emotional and mental health?
The dark reality is fear and stress are shaking America's workforce today. From executives to hourly employees, all are distracted by stress, anxiety, burnout, and uneasiness about the future.
But in the midst of this dark environment, Janet brings a fresh but powerful blend of expertise and experience to show your group how to face and defeat negative emotions. To gather courage and step forth with boldness through any adversity. This triumph translates into higher performance in the office and profitability for your organization.
Since 2004, Janet has transformed the mindset of organizations and faith-based groups nationally and internationally. Through her own example of overcoming devastating adversity and emotional chaos—blindness since the age of 30, tragedy, injustice and broken marriage—Janet teaches step by step how to walk from struggles into shining success at home and at the office.
No matter what emotional or mental battles your group faces, they're challenged to defy all odds as Janet did. She saw beyond her blindness to remove fear and pursue an award-winning career as a Spanish interpreter. She removed barriers and became a best-selling author, international speaker, and radio host. Rising above tragedy after the murder of her son, she dared to climb higher and become CEO of JC Empowerment Ministries.'
Your group is transformed with Janet's undeniable, real-life example of the adversity that's raw, but also the triumph that's real. They're inspired enough to free their mind and identify their own obstacles that keep them from performing to their potential.
In the midst of today's chaos, even the most talented and driven individuals face emotional battles. They're secretly hungry for inspiration and freedom. Addressing this fact, Janet's warm but dynamic style touches them. Initially, she engages them with unexpected humor and contagious joy. The riveting details from adversity to victory may evoke a few tears. But even before her presentation ends, the wall of stress comes down and a new passion in them is ignited.
Emotionally and mentally equipped, your group is ready to take on the world, to press forth, to eageely learn, to sharpen their creativity and strategize profit-generating solutions.
Let's work together to meet that goal by setting your group free to re-connect and re-commit to excellence.
It would be a joy to work with you. I guarantee connecting with me is easy, the preparation is detailed, and the outcome is powerful.
Past Clients
IHeartMedia
Universal Studios
Missouri Circuit Clerk Association
Excuse International
Keller Williams Real Estate
Florida Technical College
Health Care Underwriters of Florida

Janet's Signature Keynotes
Virtual or In-Person presentations

"Success, an Inside Job"
Janet's most popular message reveals the secret to reach within and draw out tenacity, courage, creativity, and perseverance.
Attendees walk away with:
Boldness to kick fear to the curb
A strategy to conquer setbacks
A plan to separate career from crazy emotions
A path to turn every obstacle into an opportunity

What happens when Challenges turn to Channels to success
With her own experience of overcoming fear, stress and anxiety, Janet empowers your group to…
Identify the emotions that hold them bound
Take steps to see beyond circumstance into the horizon of possibilities
Welcome challenges to sharpen creativity
Renew a sense of purpose and meaning
Take risks to go down the road most wouldn't dare

Wellness is the New Wealth
Janet's experience in conquering devastation and tragedy serves to illustrate the proven path to physical, mental, and emotional wellness.
Attendees learn…
A basic yet powerful plan to bring back health one step at a time
How foods affect the emotions
The importance of detoxing the mind
The habits that maintain mental clarity and develop its capacity
How gratitude is the secret to inner peace

Limitations Cannot be Excuses
Janet earned the label of "Excuse Eraser" because of her tenacity to remove excuses and develop strength to soar higher.
Attendees learn…
To embrace failures as they never fail to bring valuable lessons
If someone says, "it's impossible," that's the clue to move ahead with boldness
Why barriers can develop our strength to push forward
The past can be our friend and our teacher

You expect the best from your speaker and this is my commitment to you
To make your planning easy, flawless as I work with you at every step.
Together we'll identify the topic that will be specifically tailored for your group
Prompt response to your questions
A guarantee that attendees will laugh, shed a few tears, and receive life-changing inspiration
A follow up connection to make sure all your expectations were met

I'd love to team up with you, my goal is to make your event shine so you become the star for inviting me.
[email protected]
P: 407.855.1565
C: 407.433.1085