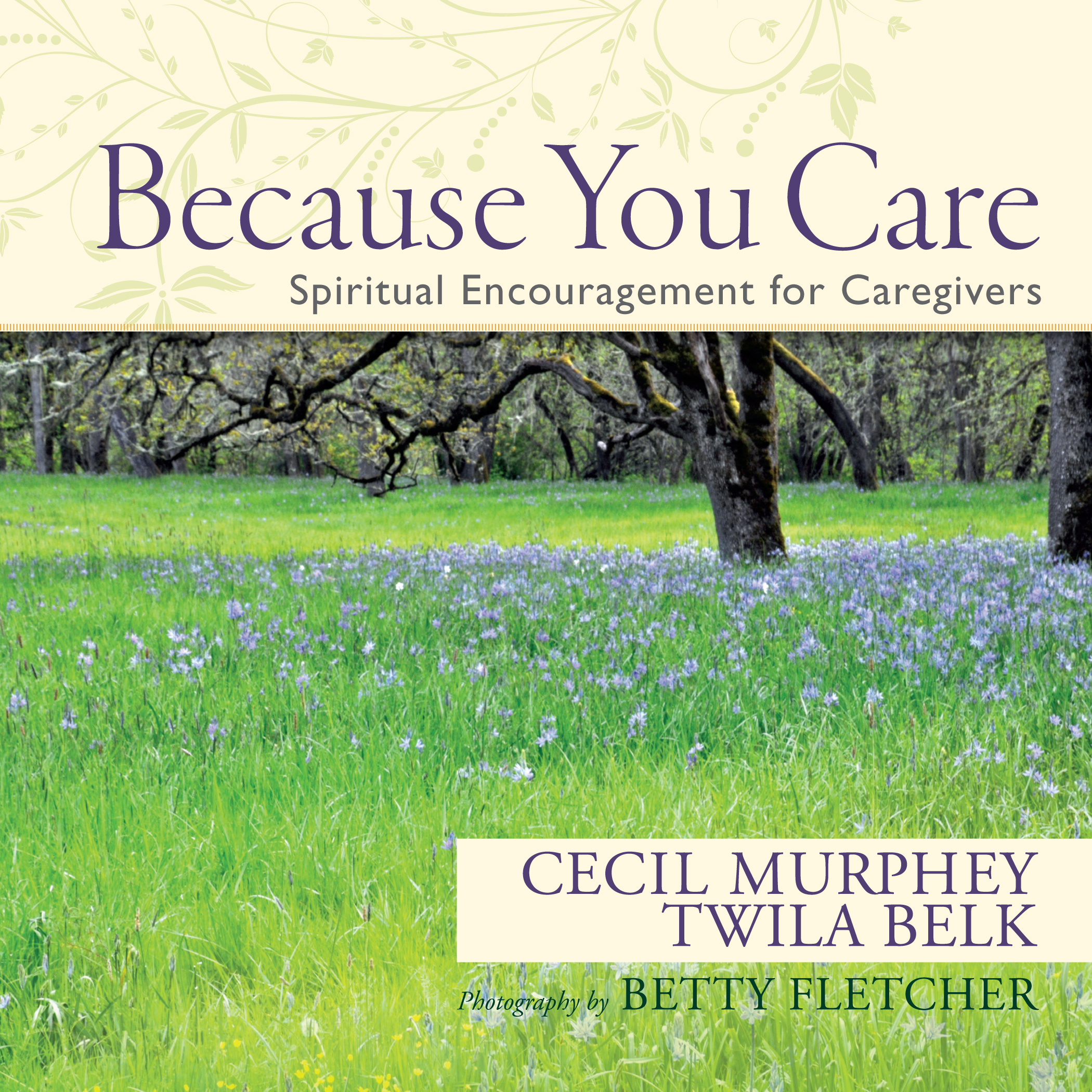 Sales Info
Because You Care: Spiritual Encouragement for Caregivers
Harvest House Publishers
Gift Book
ISBN 978-0-7369-4328-4
Retail Price: $12.99
Release Date: February 2012
Authors: Cecil Murphey and Twila Belk
Blurb from back of book
As someone caring for an ill or elderly loved one, you understand that your role can push you to the limit, press on every nerve—and yet fill you with a deep sense of love and peace of mind.
Beloved authors Cecil Murphey and Twila Belk know this too. Beautifully written and full of gentle wisdom, their personal stories of caregiving will help you face some of the ups and downs of your journey.
Feeling guilty for doing too much, too little, or nothing at all
Answering other's well-meaning but insensitive questions
 Watching someone you dearly love suffer or die
Here are the stories from those living the life. Let their encouraging words lift your heart.
Book Excerpt (from the beginning)
 This Is Who You Are
From Cec and Twila
 Others may call you brave. They'll use words like noble or sacrificial. They'll admire and applaud you because you've offered your life to make yourself available to someone who needs a long-term caregiver.
 "I couldn't do what you're doing for him," a friend says.
 You listen to the words your friend speaks, and you like hearing the compliments. Yet as you listen and smile, you don't see yourself as exceptional. You're doing the right thing for someone you love, and that gives you peace. You also know the reason you've devoted your energies to another person.
 You can express that reason in a single sentence: "I do it because I care." You might say it's because you love the person, or you may do it because of a strong sense of commitment to God and to your loved one. Regardless of how you express yourself, you're determined to give yourself as fully as you can.
 Some days you may not feel like loving anyone. You get tired, lose your temper, or think of the things you didn't accomplish. During the worst times, you wish the situation would change. And in those dark moments, you've probably prayed, Dear Lord, please take this burden from me.
 The situation probably won't change for a long time—perhaps years. It's not the kind of life you would have imagined. You probably envisioned living out your years in blissful peace. Caring for your loved one wasn't part of your dream, but this is the life you have. Despite the moments of sadness, perhaps even regret, your answer remains the same: "I care."
 Taken from:  Because You Care.  Text Copyright © 2012 by Cecil Murphey, Twila Belk.  Artwork Copyright © 2012 by Betty Fletcher. Published by Harvest House Publishers, Eugene, Oregon.  Used by permission.
 Find Us on Facebook:
Because You Care Facebook page: https://www.facebook.com/pages/Because-You-Care-Spiritual-Encouragement-for-Caregivers/250527628357568
 Articles by Twila Belk on Caregiving:
Bios
Twila Belk and Cecil (Cec) Murphey are both long-term caregivers for their spouses. Twila, aka the Gotta Tell Somebody Gal, is a writer and speaker who loves to brag on God. She works fulltime with Cec as his manager, personal assistant, and biggest fan. Cec is a veteran author who has written or co-written more than 125 published books, including the bestsellers 90 Minutes in Heaven (with Don Piper) and Gifted Hands (with Dr. Ben Carson). His books have sold in the millions and have brought hope and encouragement to countless readers around the world. Cec and Twilas' second co-authored book, Heavenly Company: Entertaining Angels Unaware (Guideposts Books), released in August 2012.
For more info about Twila, visit www.gottatellsomebody.com.
For more info about Cec, visit www.cecilmurphey.com.
Grand Prize Giveaway Description
Book—Because You Care: Spiritual Encouragement for Caregivers
Book—Hope and Comfort for Every Season
Hallmark journal, list pad, and memo pad stack
Glade "Angel Whispers" candle
Hershey's Bliss dark chocolate
Instructions to Enter the Grandprize Drawing:
1.  Leave a comment about the book or author on the blog post during the blog tour.
2.  Each blog tour host will draw one name from those comments to send to the tour coordinator by October 12.
3.  The coordinator will put all the names into a drawing, and select a winner, using an online randomizer.
4.  The coordinator will notify the blog tour host who submitted the winning name.
5.  The blog tour host will notify the winner and collect the mailing info so the author can send out the prize.